Gyroindex Posibras – Rotary index tables
About Gyroindex Posibras
Founded with a clear vision of excellence, Gyroindex Posibras – Rotary Index Tables stands out as a renowned precision positioner manufacturer, essential for industrial automation, robotics, and the groundbreaking Industry 4.0. Our specialties include the manufacturing of indexing tables in 6 different sizes, equipped with mechanical and continuous indexing, as well as precision linear conveyors.
Every industry seeks efficiency and precision, and that's exactly what Gyroindex Posibras offers. Our indexing tables, created with a focus on perfection, meet the highest standards of quality and precision. They have found their place in a wide range of industries such as automotive, microelectronics, appliances, pharmaceuticals, cosmetics, aerospace, medical, food, and special machines.
With a strong commitment to technological innovation, flawless precision, undisputed quality, and high-level technical support, Gyroindex Posibras has established itself in the market. With 15 years of accumulated experience, we are honored to have a highly qualified team, always ready to serve and assist our valued customers, sharing our extensive knowledge about positioners.
Taking a step forward in technology, our quote page not only facilitates calculations but also displays a real-time graphic animation, reflecting the sizes and times specified by the client.
Our robust infrastructure in Brazil, strategically located next to major highways and access routes, ensures efficient delivery to ports and airports. In addition to our standard products, we take pride in customizing solutions according to our clients' unique needs.
Benefits of using Gyroindex Posibras positioners
High precision for complex tasks
Guaranteed durability
Maximization of productivity
Intuitive operation
Economical with low cost
Variety for all needs
Unmatched quality standard
Specialized technical support at your service
Contact Us
If precision positioners are on your list of needs for automation, robotics, or Industry 4.0, look no further. Gyroindex Posibras has everything you need and more. Get in touch with us for a detailed consultation on our products and services. Gyroindex Posibras – Indexing Tables.
Contact Gyroindex Posibras – Your partner in Precision Positioners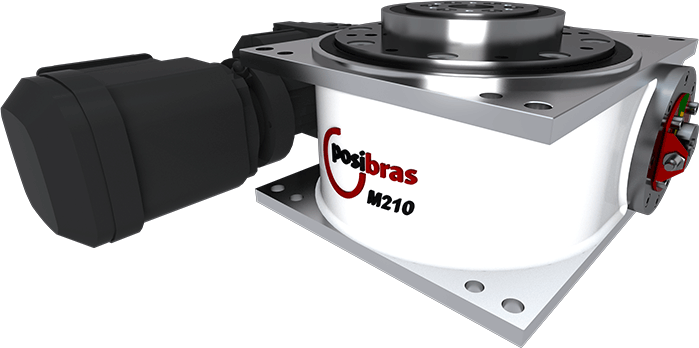 | | | |
| --- | --- | --- |
| | | rotary index table, indexer, machine building, rotary machines, indexing ring, automation equipment, linear machine, rotary stage, rotary index, rotary indexing, rotary indexer, indexers, rotary transfer, indexing rotary tables, assembly machinery, assembly machines, assembly automation equipment, indexing conveyor, assembly conveyor |